This my second year participating in this end of the year survey! It is hosted by Jamie @
The Perpetual Page Turner
. You can view the questions on her blog 
here
.
***Most of my answers are linked with my reviews****
Note: The survey is for books you read throughout the year, no matter when they were published, and is not limited to just books that came out in 2014!!
Number Of Books You Read:

54
Number of Re-Reads

: 8
Genre You Read The Most From:
Contemporary/YA
1. Best Book You Read In 

2015?



I have read so many great books this year. So, I'm going to narrow it down to three, with genre.
GLBTQIA: Simon vs the Homo Sapiens Agenda by Becky Albertalli
Fantasy: The Ocean at the End of the Lane by Neil Gaiman
New Adult: A Little Something Different by Sandy Hall
2. Book You Were Excited About & Thought You Were Going To Love More But Didn't?
Never Always Sometimes by Adi Alsaid
 

3. Most surprising (in a good way or bad way) book you read?  
EVERYTHING, EVERYTHING by Nicola Yoon
 4. Book You "Pushed" The Most People To Read (And They Did)?



SIMON VS THE HOMO SAPIENS AGENDA by Becky Albertalli
 

5. Best series you started in 2015?
The Selection by Kiera Cass
I completed this *trilogy* and finished it in the course of just two months. It was addicting and had me invested! I'm not a big fan of dystopian, it's not my go-to genre. But, this trilogy helped me to like dystopian!
Best Sequel of 2015?
P.S. I STILL LOVE YOU by Jenny Han
Best Series Ender of 2015?



Isla and the Happily Ever After by Stephanie Perkins – the last book in her Anna & the French Kiss collection.
 

6. Favorite new author you discovered in 2015?
Sandy Hall, author of A Little Something Different. I'm so glad I found her this year, she's my new favorite.
7. Best book from a genre you don't typically read/was out of your comfort zone?



I've became a fan of Fantasy this year, thanks to this excellent book!
 8. Most action-packed/thrilling/unputdownable book of the year?



I started to read more of the Harry Potter series this year, and I've made it past Prisoner of Azkaban. It was definitely a book I couldn't put down..especially when I was almost done and trying to hide that I was reading it, out to a dinner at a restaurant.
 9. Book You Read In 2015 That You Are Most Likely To Re-Read Next Year?
The Ocean at the End of the Lane by Neil Gaiman; I will definitely be re-reading this next October!
10. Favorite cover of a book you read in 2015?
11. Most memorable character of 2015?



Harriet Manners; Geek Girl
 12. Most beautifully written book read in 2015?
Every Day by David Levithan
13. Most Thought-Provoking/ Life-Changing Book of 2015?
A Work in Progress by Connor Franta
 14. Book you can't believe you waited UNTIL 2015 to finally read?

 
Dash and Lily's Book of Dares by Rachel Cohn, David Levithan – WHAT WAS I DOING??? I finally picked it up this December and I loved it!
 

15. Favorite Passage/Quote From A Book You Read In 2015?
"Love can go away,or people can without meaning to. Nothing is guaranteed".– P.S. I Still Love You by Jenny Han
16.Shortest & Longest Book You Read In 2015?
Shortest:  Are You There God? It's me Margaret by Judy Blume ( 160 pages)
Longest: Harry Potter & the Prisoner of Azkaban (435 pages)
 17. Book That Shocked You The Most



(Because of a plot twist, character death, left you hanging with your mouth wide open, etc.)
Never, Never Part 2 by Colleen Hoover, Tarryn Fisher
18. OTP OF THE YEAR (you will go down with this ship!)



(OTP = one true pairing if you aren't familiar)
Blue & Simon – SIMON VS THE HOMO SAPIENS AGENDA by Becky Albertalli
19. Favorite Non-Romantic Relationship Of The Year
Rachel and Greg  // Greg and Earl – Me and Earl and the Dying Girl by Jesse Andrews
20. Favorite Book You Read in 2015 From An Author You've Read Previously
We'll Always Have Summer by Jenny Han (basically that whole trilogy) SPOILER REVIEW OF TRILOGY 
21. Best Book You Read In 2015 That You Read Based SOLELY On A Recommendation From Somebody Else/Peer Pressure:
I didn't really read many books because I was told to this year. But, I did read the Selection trilogy because of my friend, Sabrina. She hosted a Selection Read-along. So, that counts I guess!
22. Newest fictional crush from a book you read in 2015?
Dash from Dash & Lily's Book of Dares by Rachel Cohn and David Levithan
23. Best 2015 debut you read?
SIMON VS THE HOMO SAPIENS AGENDA by Becky Albertalli
24. Best Worldbuilding/Most Vivid Setting You Read This Year?
Harry Potter and the Chamber of Secrets by J.K. Rowling – an obvious answer. I just love that each book I read of hers is always new (since I'm reading for the first time). After I'm finished reading, I always think to myself about how insane it is that she did all of this. These were all of her ideas. I'm literally mesmerized each time.
25. Book That Put A Smile On Your Face/Was The Most FUN To Read?
13 Little Blue Envelopes by Maureen Johnson – this was definitely very fun to read! You're going on an adventure throughout Europe!
26. Book That Made You Cry Or Nearly Cry in 2015?
I was definitely emotional when reading P.S. I Still Love You by Jenny Han because those characters are my life.
27. Hidden Gem Of The Year?
The Truth About Jack by Jody Gehrman
28. Book That Crushed Your Soul?
The Beginning of Everything by Robyn Schneider (THERE'S A THING, AT THE END THAT HAPPENS AND JUST OMG I ALMOST CRIED)
29. Most Unique Book You Read In 2015?
From A Distant Star by Karen McQuestion – I thoroughly enjoyed this book! It was out-of-my comfort zone, but intriguing. I've never read anything like it!
30. Book That Made You The Most Mad (doesn't necessarily mean you didn't like it)?
WHERE SHE WENT BY GAYLE FORMAN – this book just made me angry, I have a full Book Talk on it.
1. New favorite book blog you discovered in 2015?
2. Favorite review that you wrote in 2015?
Hm… I've written a lot of great ones this year. But, I am most proud of my Spoiler Review: P.S. I Still Love You by Jenny Han
3. Best discussion/non-review post you had on your blog?
4. Best event that you participated in (author signings, festivals, virtual events, memes, etc.)?
Bookcon! I went to Bookcon for my first time this year and it was a great experience. I met some of my Booktube friends and it really was such a great time. AND!! I was feet away from David Levithan #goals.  my post 
5. Best moment of bookish/blogging life in 2015?
I don't know if I have a moment, but just that people are finding my blog more was great this year!
6. Most challenging thing about blogging or your reading life this year?
I participated in a blog tour! My very first one 🙂
7. Most Popular Post This Year On Your Blog (whether it be by comments or views)?
WOAH. I'm just seeing this now and my most popular post with 1,392 views is…. my Spoiler Review: P.S. I Still Love You by Jenny Han!! Thanks for reading, everyone! :DD
8. Post You Wished Got A Little More Love?
My ARC Review of Simon vs. the Homo Sapiens Agenda by Becky Albertalli
9. Best bookish discover (book related sites, book stores, etc.)?
Bookish subscription boxes!! I've gotten Uppercase twice this year and have been satisfied!
10.  Did you complete any reading challenges or goals that you had set for yourself at the beginning of this year?
I completed my Goodreads goal of 45 books!
1. One Book You Didn't Get To In 2015 But Will Be Your Number 1 Priority in 2016?
Miss Peregrines Home for Peculiar Children by Ransom Riggs. I started a couple pages of this, this year but I'm hoping to actually read it this year! I'd also like to finish Carry On by Rainbow Rowell. I just need time to read it. A huge chunk of time.
2. Book You Are Most Anticipating For 2016 (non-debut)?
I'M SOOOOO EXCITED!!!! I only have to wait until January 25th!
3. 2016 Debut You Are Most Anticipating?

This is Where It Ends by Marieke Nijkamp (January 5th, 2016)
 4. Series Ending/A Sequel You Are Most Anticipating in 2016?
I actually don't have one, not yet at least. I don't really read many trilogies/series/etc. Does this count? Maybe as a sequel to My True Love Gave to Me? b/c that's what I'm going with!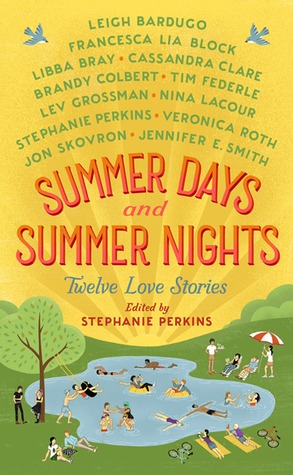 5. One Thing You Hope To Accomplish Or Do In Your Reading/Blogging Life In 2016?
Just read more genres that are out of my comfort zone. I'd really like to read more New Adult or Adult fiction.
6. A 2016 Release You've Already Read & Recommend To Everyone:
I can't answer this question, because I haven't read any 2016 releases yet! 😦
---
I wish you all a happy new year and hope 2016 treats you well! Thanks for all the support with my blog and for following, liking and commenting! My blog turned one year old this year, and I've accomplished a lot!
Here's to 2016. 
Happy reading!