Happy October 3rd! I promised myself that I would do this tag on October 3rd because if I didn't, would I really be a Mean Girls fan??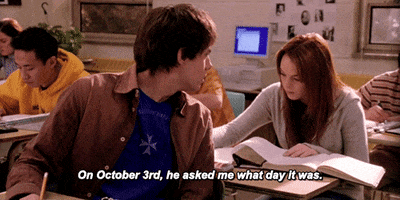 I was tagged a long time ago to do this tag by Lisa from City of YA Books on Booktube! This tag was created by Sarah Jane at The Book Life.  I'm so excited to do this tag, I'm going to watch Mean Girls right after, too! What is your favorite quote from Mean Girls & favorite character post it in the comments!
---
1. "It's pronounced like Cady" – Which fictional character's names did you get completely wrong? When I first read To All the Boys I've Loved Before by Jenny Han, I always pronounced Margot with the T at the end. Mar-g-OT. I'm ashamed…I know, but I never read that name spelled like that before. Eventually, I found out through a video review or something that it was not pronounced like that. The letter T is silent. 
2. "She doesn't even go here!" – Which character would you like to place in a fictional world from another book or series? I read contemporary books mostly so this question is interesting! I'm going to be cliché and choose Hogwarts and I'd like to see Tiny Cooper (Will Grayson, Will Grayson by David Levithan & John Green) at Hogwarts which would be so interesting!! 
3. "On Wednesdays we wear pink!" – Repetition. Repetition. Which book gave you dejavu of another book whilst reading it? I recently read True Letters From A Fictional Life by Kenneth Logan and it reminded me of the male version of TATBILB! Which was so up my alley, I loved it! It had hockey references, lgbtqia & the MC wrote fictional letters to himself and they end up getting lost. So, basically TATBILB. 
4. "You all have got to stop calling each other sluts and whores. It just makes it okay for guys to call you sluts and whores." – Which book gave you the complete opposite of girl power feels?  I've been thinking and thinking about this question and I really can't pick one out. I want to say Every Last Word by Tamara Ireland Stone which is a book I adore, but the friends in this book are definitely not great and just do not give off girl power vibes!
4. "You go Glen Coco!" – Name a character you felt like you wanted to cheer on whilst reading.  I just recently read The Unexpected Everything by Morgan Matson and I was definitely cheering on Andie at the end of the book! 
5. "Get in loser, we're going shopping!" How long do you typically spend at a book shop? It really depends how much time I have and who I'm with. I usually buy books online so for that it takes hours haha. At the library though, I can get lost in the books too much!
6. "It's not my fault you're like in love with me or something!" – Which character would have to get out a restraining order on you, if they were real? I definitely will be going with Levi from Fangirl for this question, he's super nice and he probably wouldn't put a restraining order on me…But hey we never know! 
7. "I can't help it that I'm popular." – Which overhyped book were you cautious about reading?  
A book with a lot of hype I was cautious about reading this year was actually The Unexpected Everything by Morgan Matson. I did see a lot of hype surrounding the book and I definitely was wary when picking it up. See my spoiler free review.  
8."She's a life ruiner. She ruins peoples lives." – We all love Regina George. Name a villian you just love to hate. Since I read Contemporary books, it's often hard for me to answer these questions! But, I am going to go with Draco Malfoy from Harry Potter, he's definitely a villain I love to hate! 9. "I'm not like a regular Mom, I'm a cool Mom." – Your favourite fictional parents. THE SPIERS FROM Simon vs The Homo Sapiens Agenda. THEY'RE MY FAVE, OK.
10. "That is so Fetch!" – Which book or series would you love to catch on? Symptoms of Being Human by Jeff Garvin. It's one of my favorite LGBTQIA books of the year, it's fantastic.
11. "How do I even begin to explain Regina George?" – Describe your ideal character to read about. I love reading about characters who are book bloggers, or just book lovers because they're fun. Also, if they are witty and have a sense of humor!
12. "I just have a lot of feelings." – What do you do when a book gives you a bad case of 'the feels'? I smile uncontrollably and go to my phone for Twitter or GR if I'm in public, but if I'm alone/at home I start talking well screaming aloud my feels! Making noises no one can understand. Or I basically do what she is doing in this gif. 
 13. "Nice wig Janice, what's it made of?" "Your Mom's chest hair!" – Which characters one liners would you love to claim for your own? Oooh! Parker from Not If I See You First by Eric Lindstrom! She's super witty and snarky and I LOVED HER! I'd love to have her clever one liners!
14. "Boo, you whore." – Name a time a characters decision has made you roll your eyes.   Hannah from In Real Life by Jessica Love had me constantly rolling my eyes and just making me angry! She kept just saying she would go back to her hotel and not even change anything with Nick.. What is that nonsense about?!?!? 
So, that's my Mean Girls Book Tag! I hope you all enjoyed and you should do this if you haven't! My favorite character has to be Karen, she's hilarious! & My one of my favorite quotes is this gif below! 
I tag: