I recently filmed the Gilmore Girls Book Tag 2.0 and I loved every minute of it! If you didn't know, I'm the biggest Gilmore Girls fan and I also created The Gilmore Girls Book Tag back in 2014 when it released on Netflix in the US.
Pink Lemonade Reads on Booktube created this tag and I hope you guys will share it! I did the tag on my Booktube channel but I released I didn't do all of the questions? The footage must've gotten lost or something…Maybe I'll film a part two. But for now here is the tag in written form!
I had so much fun filming and editing this video!! I love Gilmore Girls so much and this was a great tag. I'll be doing my OG one closer to the revival date! *SPOILERS FOR GILMORE GIRLS* 
---
1. I JUST GOT HIT BY A DEER – character having the worst day ever 
I'm going with Hank from My Kind of Crazy by Robin Reul. Hank promposes to the girl of his dreams by writing the word P-R-O-M out in sparklers. This results in her house *almost* catching on fire. So, I guess we could say he had a pretty bad day.


2. STARS HOLLOW – wildly eccentric cast
I just recently read The Unexpected Everything by Morgan Matson and it has a vast cast of characters. Andie's friend group is pretty large and I loved how they all had their own personality and felt like real characters rather than just side characters.

3. COFFEE – a book you're addicted to/a character w/ an addiction
In my video, I mentioned an author I'm addicted to and I chose Rainbow Rowell because I'm so addicted to her writing, I'd read anything by her!

4. SOMEONE DEVIL EGGED BY CAR?! – great act of revenge
Okay, can I just say I've ALWAYS wanted to devil egg someones car? Like, it's on my bucket list. A book that features revenge is Don't Get Caught by Kurt Dinan  this book is about a prank war and a group of "The Breakfast Club" like teenagers who are trying to expose The Chaos Club at their school. So many pranks and much revenge!

5. MR. MEDINA – an illicit affair
I really don't have an answer for this! I don't know that I've read any books featuring an affair. 

6. KIM'S ANTIQUES – a world you'd be afraid to enter
Dystopian is a genre I rarely read. But, I think the Divergent world is one I wouldn't survive in. I'm totally in Amity but I just wouldn't like to live in a world that Jeanine rules and the blood? no thank you!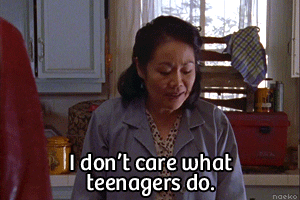 7. HARVARD VS. YALE – character who needs to make a life-changing decision
In Landline by Rainbow Rowell, Georgie McCool makes a life-changing decision. She is able to call her husband Neal from 15 years in the past through her old rotary phone. She can either fix things or change them entirely.


8. LUKE'S DINER – a comfort read

In my video, I chose Anna and the French Kiss (collection) by Stephanie Perkins. Her characters and writing is so fluffy and just makes me feel comfy while I was reading!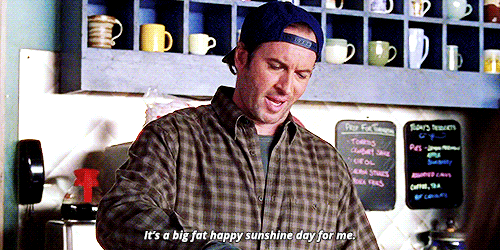 9. AM I CRYING OR LAUGHING? – a book that messed with your emotions
A book that gave me all of the feels? BEEN HERE ALL ALONG by Sandy Hall. IT KILLED ME IN THE FEELS. AWH IT WAS SO CUTE.

10. EMILY – the HBIC (Head Bitch in Charge)
I can't even think of a character that tops Emily Gilmore!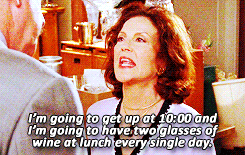 11. LORELAI AND RORY – favorite family dynamic
My favorite family is the Spiers from Simon vs the Homo Sapiens Agenda by Becky Albertalli. This  is a family I would love to be in. I mentioned this in my Top 5 Wednesday Fictional Family post. They're big fans of The Bachelorette and are just very accepting and fun!

12. I PUSHED HIM IN THE LAKE! – a book you'd throw in a lake

Okay, does anyone else just replay this scene over and over? It was hilarious!! I love Luke  and Jess' relationship.  A book that I would throw in a lake is Elsewhere by Gabrielle Ziven. I don't dislike books very much but this was one I really disliked. I just didn't agree with the world and the character was very very annoying. 

13. 1000 YELLOW DAISIES – favorite romance

So many romances to pick…I'm going to go with a recent romance from In Real Life by Jessica Love. Nick and Hannah were SOOOO cute! Despite Hannah running away from her problems…I really like how their story ended! Internet romance is adorable.

14. JESS – an unpopular opinion
I'm #TeamJess forever and I'm not ashamed! I love Jess and his character so much and his character development was so great. An unpopular book opinion of mine is The Haters by Jesse Andrews, it was definitely a disappointing read this year and I'm sad because I really wanted to like it and I was looking forward to it. The humor wasn't for me and it wasn't much of a road trip book like it was said to be.

15. FIRST SNOW – snowy or holiday read

One of my favorite holiday reads is Dash and Lily's Book of Dares by Rachel Cohn & David Levithan! I read it just last December and I can't wait for the sequel!

16. HEP ALIEN – book centered around music

Would it be wrong if I picked Nick and Norah's Infinite Playlist? Well, I am. I just read it this summer via audiobook and I loved it! It's so close to the movie it was like I was listening to the movie.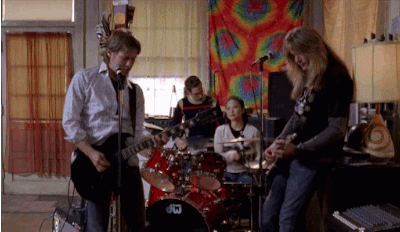 17. HE'D BETTER HAVE A MOTORCYCLE! – your book crush
Lately, I've been torn between the #1 book boyfriend spot. Levi from Fangirl and Peter K from TATBILB are fighting for the top. But, it's been Peter K a lot recently. So..I'm not going to pick 😉

18. IT'S REPETITIVE AND REDUNDANT – a book that could have been shorter
I read short books to begin with because Contemporary is usually short. But, I'm going to say The Selection Series for this. I really loved this series though I feel like the Elite wasn't needed! It could've been a standalone or duo! 

19. KIRK – the weirdest book you've ever read

A weird book I've read is From A Distant Star by Karen McQuestion. You can read my review, it's a sci-fi contemporary book in my opinion. I enjoyed it however the story was definitely weird!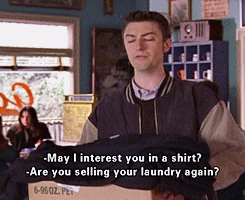 20. IT'S A LIFESTYLE. IT'S A RELIGION – that one book that means more to you than any other. 
Did I really do a book tag if I didn't fully mention To All The Boys I've Loved Before by Jenny Han? This book means the world to me. It's one of my favorites, I've read it 4x and I'm going to be a mess when the third book comes out. If you haven't read it, I really suggest it. 

So, there is the Gilmore Girls Book Tag 2.0! I loved these questions. Go watch my video and the OG video! I don't know who all are Gilmore Girls fans so I tag everyone!!