Bookcon is a book convention that I know very well. Bookcon is an American book convention held in New York City at the Javits Center this year on Saturday, June 3rd and 4th. I've been to two of the three Bookcon events, I went to the 2015 Bookcon in NYC and last year the 2016 Bookcon which was held in Chicago, IL. I have vlogs of each event if you want to see how the convention looks. (NYC 2015 Bookcon) (Chicago 2016 Bookcon)
I'll be attending Bookcon for my third time this year. It's just around the corner, there's 9 days! If this is your first Bookcon, I hope this post helps you to navigate the convention and have a fun time surrounded by Teens & YA authors, Online Personalities, Bill Nye and more as well as fellow book lovers, of course!
PLAN AND SET SMALL BUT REALISTIC GOALS
Conventions are to be organized and not procrastinated especially Bookcon because of autographs and such. Bookcon is still a new convention and so they are always experimenting. I advise you read up on the convention by following their Twitter and browsing the website. But, my main piece of advice is to not over plan and just have a few realistic goals in mind! This year, you can only get two autographs per day.
I always tell people going to Bookcon to be very low-key about the event because you're not going to always get to do everything you set out to do. So, just have little priorities and you'll have a great time!
ARRIVE BRIGHT AND EARLY
Bookcon says it opens at 10am but I advise getting there by 7am or 8am because the line gets long and you want to get into certain lines ahead of time! They do special lines as soon as the convention starts and you want to get in those for the free stuff! Forget sleep!! Books are more important. Plus, coffee is your friend. BRING LESS THAN YOU NEED
I advise you bring less than you expected because at the end of the day you're going to have so many unnecessary tote bags that your arms can't handle and so many books that you probably don't need. This also goes for books that you're bringing. Last year, I flew to Chicago for Bookcon and so I didn't even bring any books with me really because my signings didn't include it or I just didn't want to take up space. It worked out and I also only grabbed about 6 books and a few totes.
So, when you're at Bookcon think about less items especially if you're traveling via airplane stacking tons of books into your suitcase/duffle bag/etc. You're going to regret it because it's hard to pack every single thing you got. In short, just get the books/totes/bookmarks/etc that you know you want & bring only one book for the signing. I know it's hard but you'll thank me later!
Storytime: Last year at Bookcon, I flew to Chicago with my friend and her mom & we had so many books in our bags that it didn't detect them and we had to get our bags searched hahaha!
ASK QUESTIONS!
Book people are nice. If this is your first time at the Javits Center and can't find things JUST ASK. You'll get answers especially if you're waiting in line and you don't know where your next autograph is supposed to be or where the panels are held. Grab a map, they have them and you'll need it once and awhile. I like the Javits Center because it's easy to figure out and not complicated!
FOLLOW PUBLISHERS & AUTHORS FOR INFO.
Twitter and Instagram are your friend. Authors and publishers generally post their booth number and what they will be giving out. Last year, my friend got me two paper doll sets of Lara Jean and Peter K. Dreams do come true and you can get anything if you just search! Or scan the tables very closely…..
SIGHTSEEING IS FUN!!!
I love Bookcon because it's in a major city. Chicago was a blast! We went to the Bean and we ate Chicago pizza and it was so yummy!! Definitely plan key places you want to go to. This year, my friends and I are planning on going to the Strand. This is my first time going and some others too! We're just picking key spots that we know we can hit up. Also plan the distance, we learned this the hard way in Chicago where we had no clue where we were going or how far things were. Our initial plans got changed but we still had a good time!
CHECK THE WEATHER BEFOREHAND
Luckily, last year in Chicago we only got hit with rain once or twice. But, I advise bringing an umbrella just in case. I know I'm going to bring that this year because NYC is a lot of walking! But, my first Bookcon in 2015, after the event ended it was pouring rain!! Never forget the horror and panic trying to keep my books safe.I like to make sure to check the weather and accommodate my outfits for the weather. However, weather can be unpredictable so I always pack a hooded jacket just in case!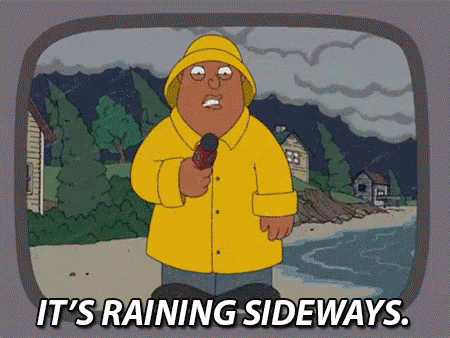 PACK LIGHTLY
Pack lightly because if you have lots of books & stuff, you'll have more space. For example, pack one pair of pajamas opposed to two & you can always wear the same pair of jeans twice – we won't judge! I'll be staying two nights in NYC but if you're staying longer two of each should do! Just pack what you're going to need rather than overpack but make it comfy because you'll be walking a ton & standing in lines! Bring a comfy shoe like sneakers because you're standing in lines all day and running around.
SNACKS!!!
This is a rule that I'm still getting used to. Last year, we didn't really make time to get snacks. I became hangry and it wasn't a good sight. But, since NYC is closer to me & I'm taking a train + bus I'll be bringing snacks for lines. You can get lunch at the convention center but you're going to be very hungry. Please eat breakfast!!! I beg you.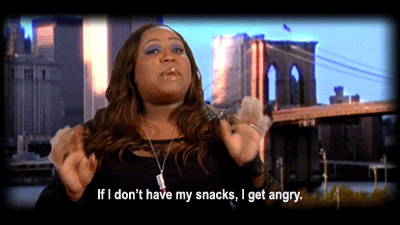 WHAT TO BRING: CHECKLIST
☐ Money!! (some lines you have to buy books or you're going to want to buy books & eat). Cash or credit, you can use your card at check out.
☐ YOUR TICKETS!! Do not forget these or you can't get in! Also, your autograph tickets!
☐ THE BOOKS you want to get signed!
☐  POST ITS.  If you're a new book event goer, this is essential. Make sure you take a post it and write your name or whoever the book is being personalized to on the inside of the book so the author can sign it! I HIGHLY EXPRESS THIS!!!!! 
☐ Portable phone charger! This is something I usually bring because I get paranoid that my phone will die and I can't find my friends. You can just charge your phone in your bag and no worries!
☐ Large backpack! I bring my backpack and it does the job of holding my phone, camera & money. I'm also bringing my own tote to hold my books in.
☐ Snacks! Don't forget the snacks 🙂
☐  Camera. This is really for me because I'm a Booktuber and I like to film/vlog my Bookcon experience as you can see above. I'm bringing my Polaroid too.
☐ Girl essentials!! This is a reminder because you never know what could happen 🙂 Pack them anyway, just in case.
☐ Business Cards: if you're a booktuber, bookstagramer, blogger Bookcon is the best form of networking. I usually stand in the lines for Contemporary authors so I give out my business cards to get new subscribers and I got a few new subscribers last year! I also met Booktubers that I'm friends with now & they're fun to collect.
☐ SNEAKERS. I can't express this enough, like I said comfy attire is key. You can still look fashionable with sneakers and your feet won't be killing you afterwards.
☐ SCHEDULE. You can build your Bookcon schedule on the app or make a spreadsheet on Google docs *which is what me and my friends are doing* It's easier to put it as your phone lockscreen so you don't have to keep checking it or just write it out. I'm not 100% but you may be able to sync your schedule to your phone.
And last, just have FUN!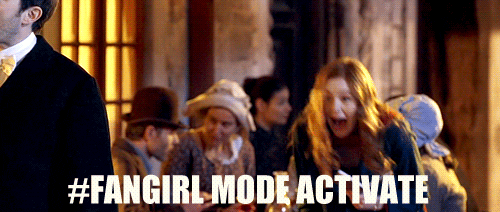 ---
Phew…*wipes forehead*
I think that's it! If you have any questions, leave them below! But, for the most part I think I hit everything. If you follow my Booktube channel, I'm going to be doing a What's In My Bag? Bookcon video. So, look out for that if you want to see more Bookcon related things!
Let me know if you're going and if these tips helped! I'll be meeting RAINBOW ROWELL for the first time this year and I'm ecstatic!!! She's in my top 5 favorite authors and I've never met her I'M SO EXCITED!!! I'll probably cry to her about how much I love Levi and Cath. I'll also be meeting & getting autographs of these authors for the first time: Morgan Matson (Saturday) , E. Lockhart (Sunday), and Jennifer E. Smith(Sunday). I'm so excited and for those who aren't going, I hope you live vicariously through us!